New Recurring ACH Payments for Pay in Full Users
Firms often tell us that they want recurring billing options. That's why we're excited to share that QuickFee officially offers a recurring payment option to give your clients even more convenience.
This new feature is completely free to our Pay in Full users. And you can create recurring payments for your clients today with this easy step-by-step guide.
Getting Started
No extra set up required! As a Pay in Full user, you can set up plans from your merchant portal (also called QUBE.)
Step 1: Log in to your QUBE merchant portal. From the dashboard, select "ACH/Card" in the top right and click "Recurring Payments" in the top navigation.
Step 2: Click "Create Recurring Payments."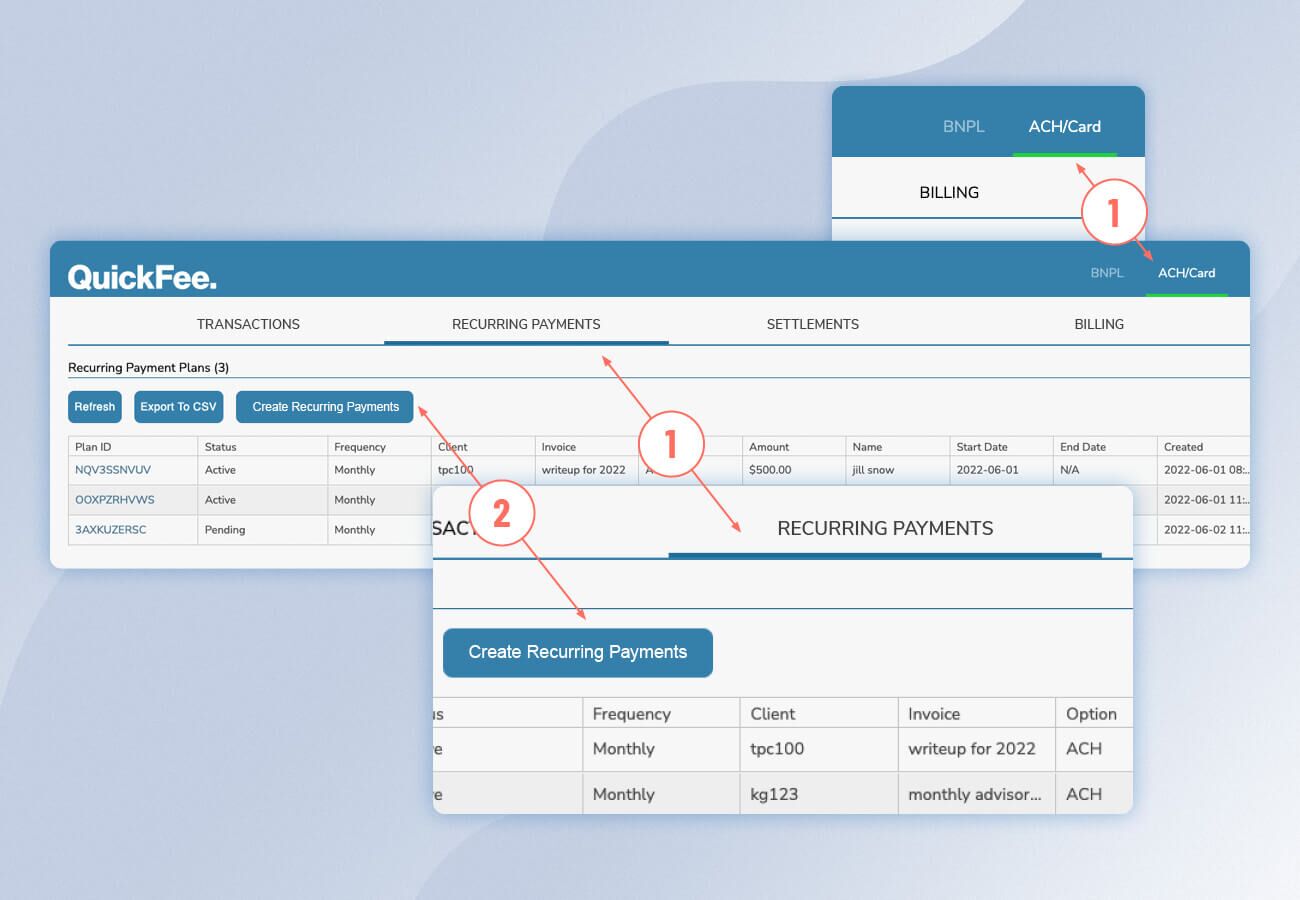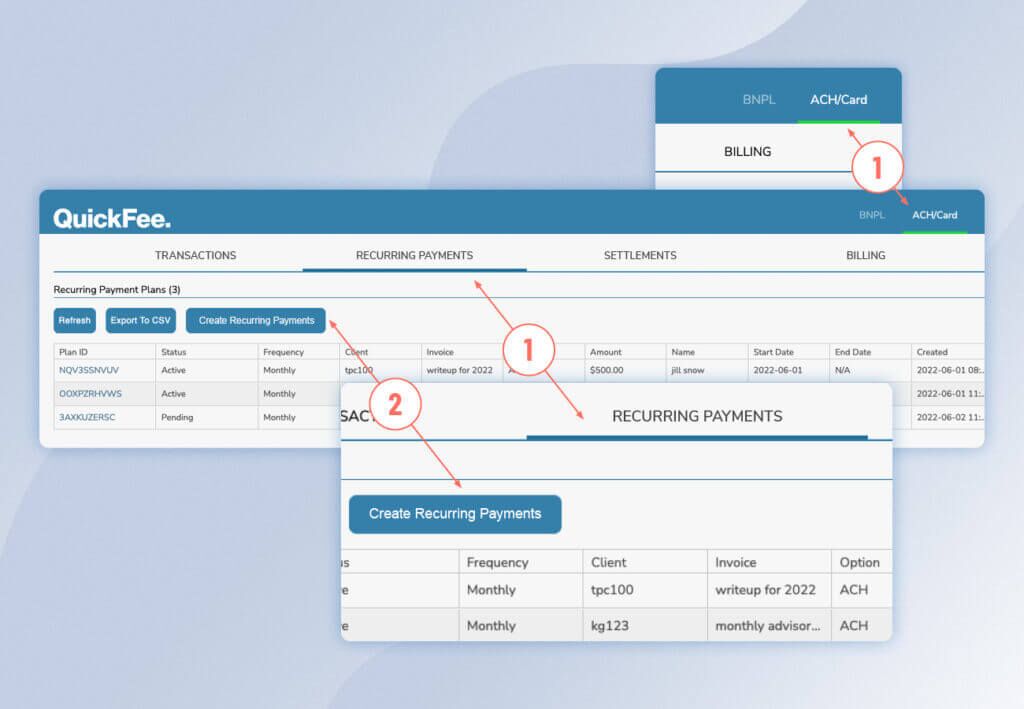 Then enter your client's payment information in the pop-up window and select the desired payment frequency.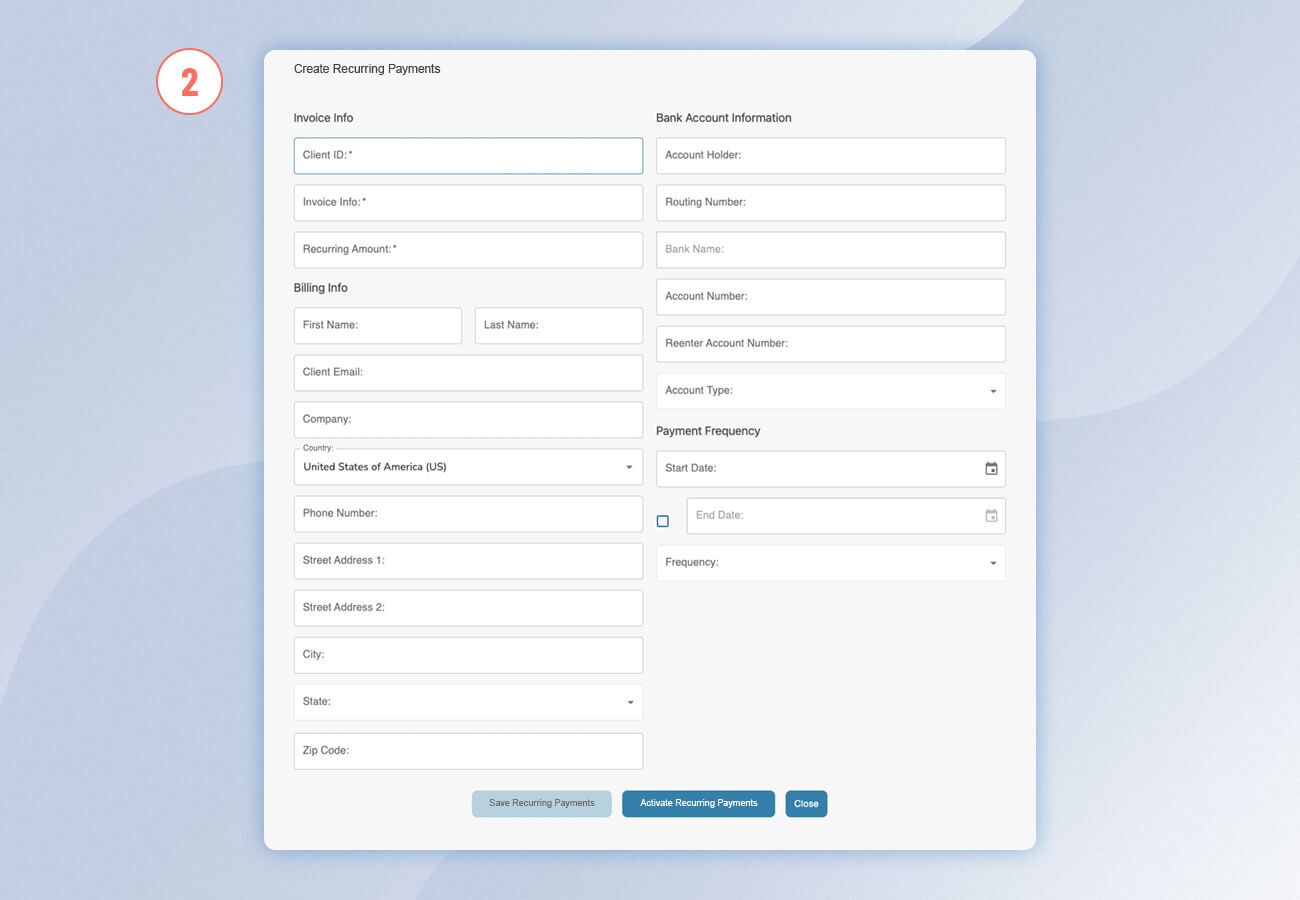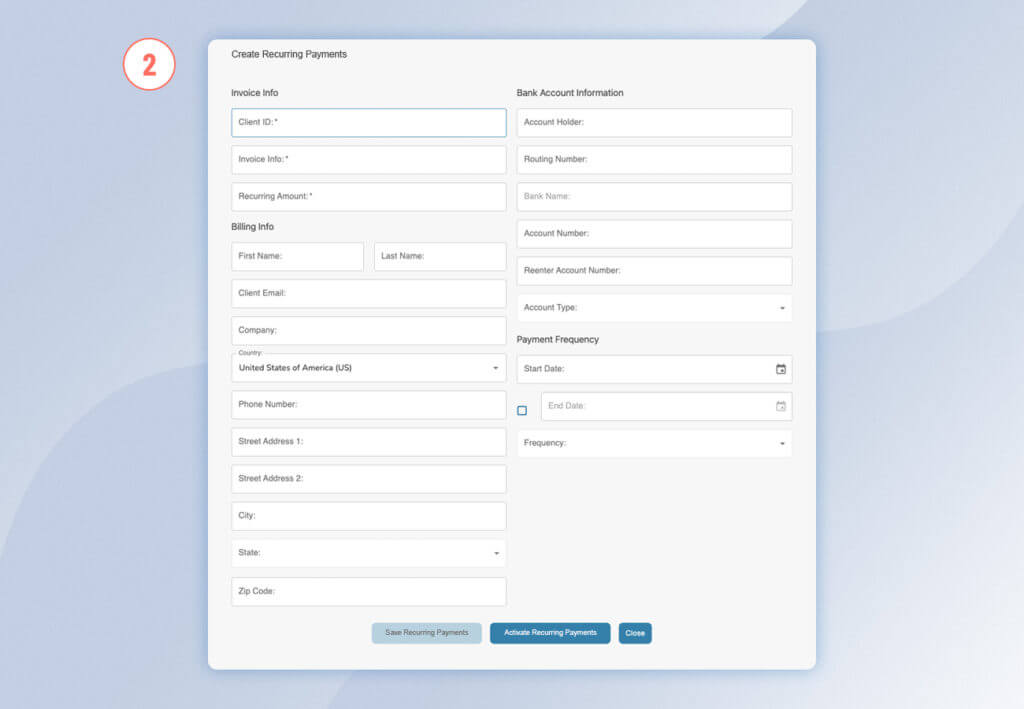 Step 3: Once complete, your client will receive an email asking them to confirm and authorize their new plan. Here's an example of how their authorization agreement will look: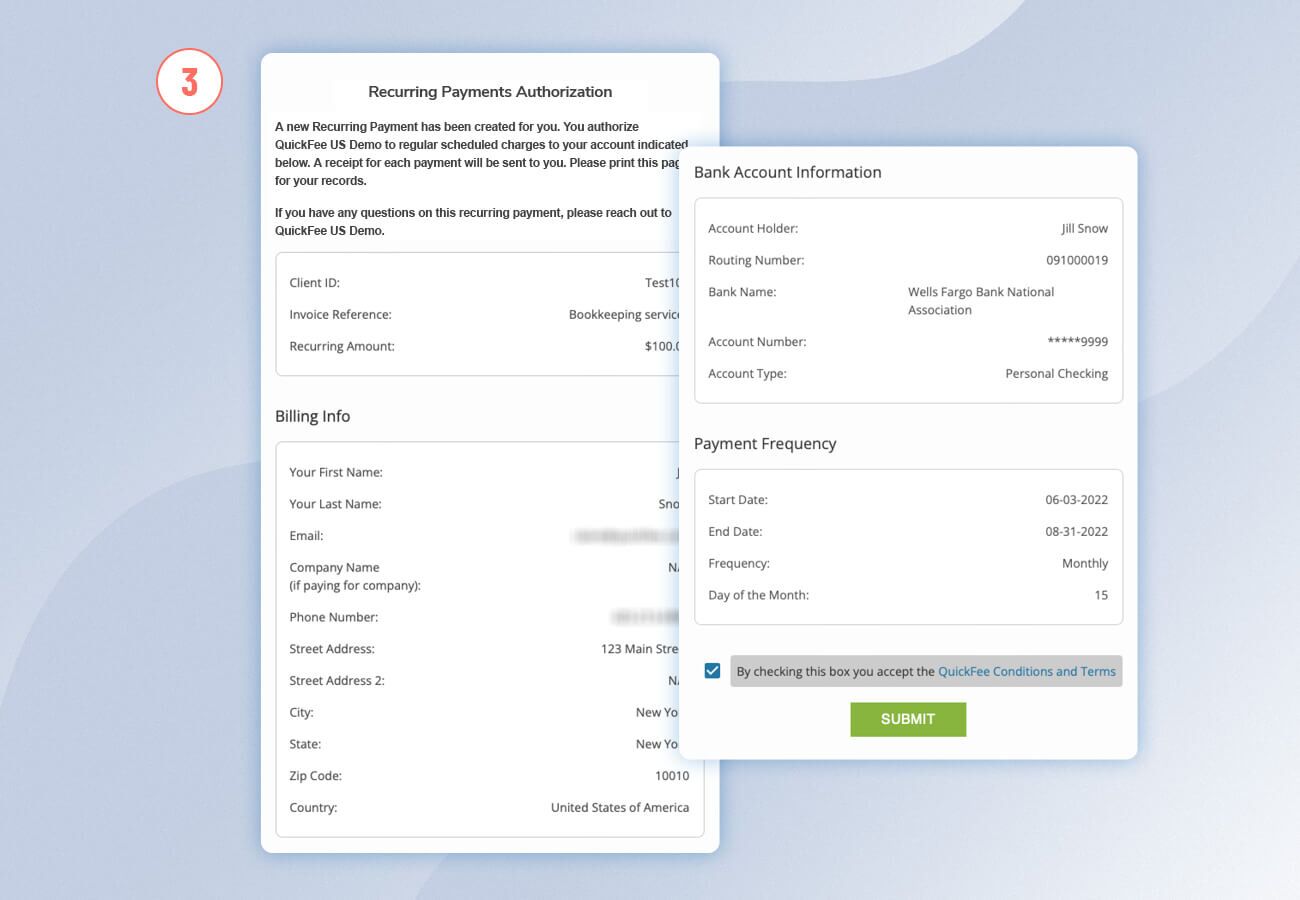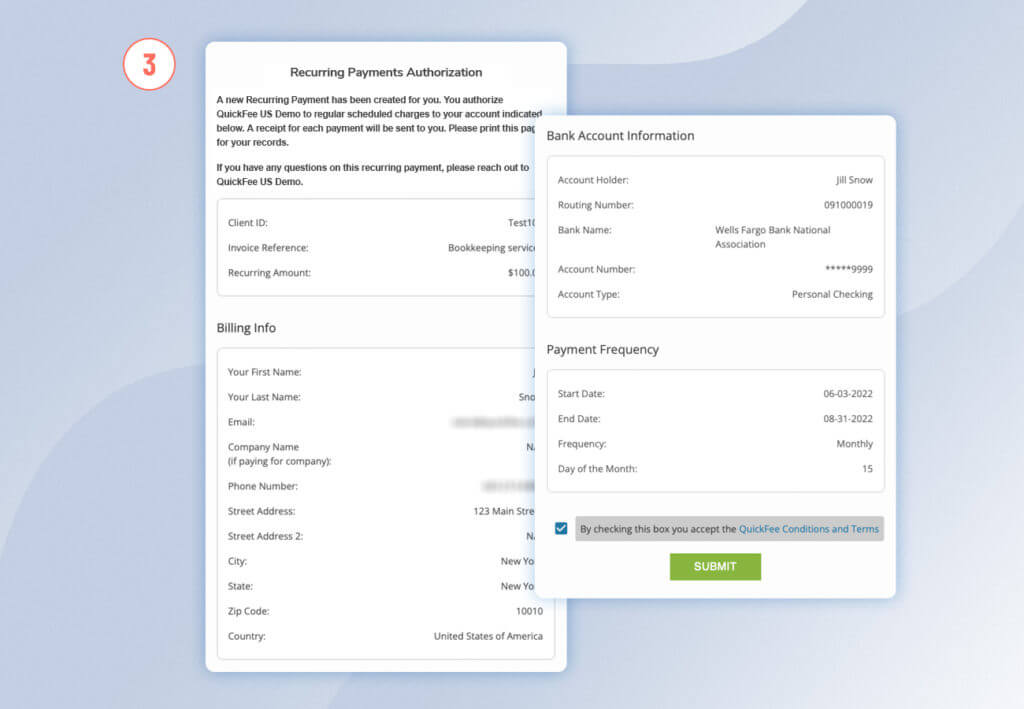 Step 4: Sit back and relax: Your client is on a recurring schedule.
For more information on how this feature fits into your service, you can also check out our Terms and Conditions for ACH.
Why Put Your Clients on Recurring ACH Payments?
Just like a Netflix subscription, your clients will now be able to "set it and forget it" for their regular services. Your firm will get a more predictable and steady revenue stream – and prevent late payments before they even happen.
Recurring Payments vs. Financing
If you also offer our Pay Over Time financing, you'll have even more options to give your clients flexibility. Below, we've got a few recommendations to help you decide whether your client needs recurring payments or a true financing plan.
Who's ideal for recurring payments:
Clients getting consistent, regular services from your firm – like bookkeeping and advisory.
Those who don't qualify for financing (or don't want another loan.)
Clients who could benefit from a predictable, fixed expense.
Anyone who you've flagged as a chronic late payer.
Who's ideal for Pay Over Time financing:
Clients who need more time to pay for a large or unexpected bill.
Overdue accounts heading into the collections stage.
Prospects who are on the fence or can't afford specific services upfront.
Clients committed to smoothing their cash flow.
Frequently Asked Questions
How much does it cost to use recurring payments?
The feature is free to any current QuickFee Pay in Full merchants. Your normal transactional rate for ACH applies for each payment.
What about recurring credit card payments?
Stay tuned for more updates on this one. We will be adding a recurring credit card payment option in the near future and will provide another announcement when that feature is live.
Can my clients vary the amount they pay?
Our recurring payment option is designed to help your clients pay a fixed amount on a predictable schedule, so the amount should not need to vary. By setting them on a recurring schedule, both you and your clients will see smoother cash flow.
Will my clients be able to set up their own recurring ACH payments?
This will be coming in a future update. For now, only merchants will be able to set up recurring ACH payments for clients.
Are there any steps my client needs to take for recurring payments?
Your client must review and authorize before the payments are activated. They will automatically receive an email from us once you submit a new recurring schedule.
What happens if my client authorizes the schedule but then wants to change it?
You cannot make changes to recurring payments that have already been authorized by the client. In this case, we would recommend cancelling the plan and creating a new one.
Do the pending payment schedules ever expire?
Pending schedules can no longer be approved by your client if it passes the first expected payment date.
What happens if my client rejects the payment schedule?
If your client rejects the schedule due to a typo or error, you can update it in your QUBE merchant portal.